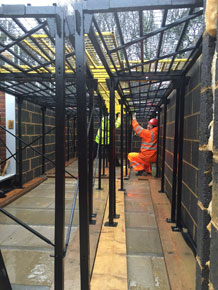 Why Use Rhino Load Decks?
Rhino Deck was designed to fit the needs of the construction market, providing a safety system that could be used inside buildings during construction to provide a means of access, as well as an effective load and work platform.
The Rhino Load Deck Platform, the Rhino Trestle and Handrail system has many benefits:
Rapid installation – The Rhino Load Deck saves time and money in erection and dismantling of the system.
A three-in-one solution – for access, loading, and working – thereby dramatically improving productivity.
It is up to ten times faster to install than traditional scaffolding
Rhino Load Deck has a broad range of applications:

Brick laying
Roofing
Joinery
Plastering
Painting

Rhino Load Deck support up to 600kg at 3ms.
Rhino Load Deck does not need standing wall support.
A total safe working height of 4m's can be designed by our specialist team.
Fully HSE compliant and has been tested to BS5975:1996 load rating
Contact Vision Access
If you would live to find out more about our Rhino Load Deck systems then please contact us on 02380 227088 or fill in our contact form.